Security Camera Installation
If you want to protect the things you value, the best way is to keep a close eye on them. Using a Closed Circuit Television Camera (CCTV) is the most effective surveillance method because it allows you to safeguard your home, business, and the people you love. For more information, check out our post on the rundown on CCTV: What you should know and look for when purchasing a CCTV system.
At Cellar Door, we can install any type of installation you need. We specialize in indoor and outdoor camera setups, home or office, and setups with motion detection.
What Do You Need to Know Before Purchasing A Security Camera System?
At Cellar Door, we try our best to inform protentional customers about some of the considerations they should take into account before purchase a security camera system. Take a look at our infographic for some help: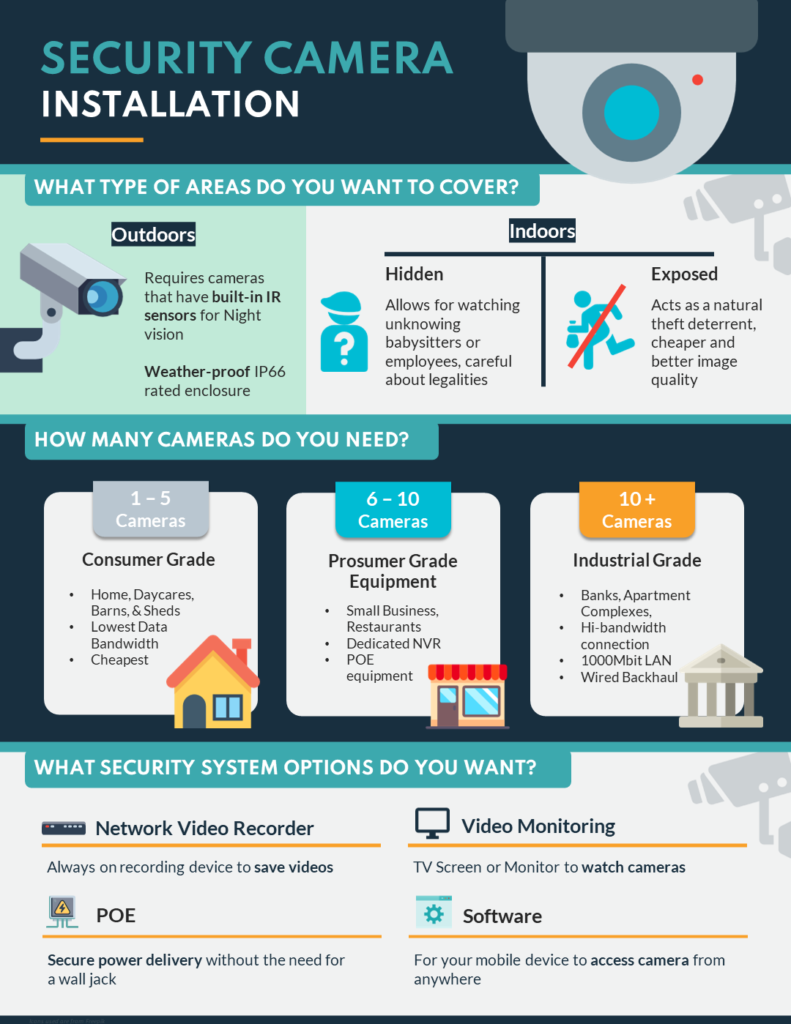 Installing a Security Camera system involves many factors and considerations. We strive to present you the best options available to fit your needs.
What Type of Area's Do You Want to Surveil?
Outdoors
Outdoor cameras require special considerations when purchasing and installing; they require IR sensors that can see in the dark. They also should be waterproof in case of moisture exposure. It's important not to mount cameras in direct sunlight, which can blind the lens and decrease service life.
Indoors
Mounting a camera indoors comes with some choices too. Do you want your camera to be hidden? If so, special cameras that are less conspicuous are better suited. It's also important to run the cables inside the wall away from sight.
At Cellar Door, we recommend mounting the camera in an exposed location, primarily because cameras often act as a natural deterrent to thieves, like a marked police car with flashing lights.
How Many Cameras Are Required?
The number of cameras has a significant impact on the overall cost of the project. The internet network must be designed to handle the increased traffic from the cameras. Also, the Network Video Recorder needs to be capable of recording multiple streams coming from the cameras. For larger projects, the use of POE equipment is suggested for reliability and safety.
Other Factors to Consider Before Installation
Do You Want to Record Your Footage?
If so, you will need a network video recorder. Network video recorders are small VCR-like appliances that store the video onto a hard drive for storage. They are mounted in secure locations difficult for thieves and attackers to gain access to. They also act as small servers so that you can access your videos remotely on a mobile device.
Do You Want to Use POE to Power Your Cameras?
POE (power over ethernet) is a power delivery standard used to send power to your cameras without running a secondary power cable. This greatly decreases the installation time, increases safety, and improves reliability. The benefits are significant but require specialized hardware during installation. For smaller setups, POE is not required, but it's strongly recommended for a larger installation.
Video Monitoring
Security Cameras are great at recording video, but you'll need a monitor to watch the footage live. In some cases, it may not be needed. Some users use their cellphones to monitor the cameras, but for retail businesses or other high-risk deployments, attaching a monitor is suggested.
Software
Software is one of the most important (and undervalued) areas when purchasing a security system. It's the interface between the recording and the user viewing it. It's important to find a CCTV system that has strong software support, cross-platform capability (iOS & Android), and high reliability. Many manufacturers are increasingly moving to cloud-based software systems, and requiring users to pay monthly fees for access.
This cost can significantly decrease complexity because an outside company is managing the camera feeds but comes at a cost, and not just financially. Giving an outside company access to your data has significant privacy concerns, and can be a legal problem if they are subpoenaed by LEOs (because you don't own the data). Ultimately, the user must decide whether the decrease in complexity is worth the downsides.